Travel Photos: Laos
. Posted by Sherrie Thai by Shaireproductions.com . I was so pleased to venture through Laos–a quiet country with stunning views (Pakbeng, Luang Prabang, Vang Vieng, & Vientiane).
The full photo albums can be seen on Smugmug and Flickr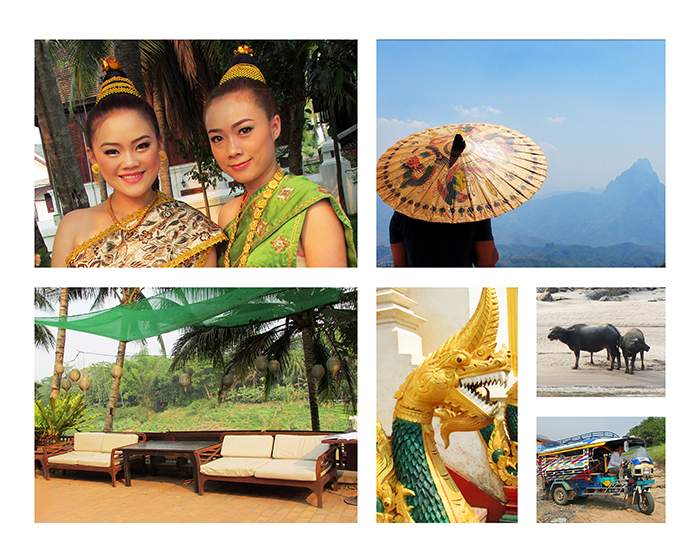 Laos, Pakbeng and the Mekong River. I rolled through the border of Laos in Tuk-Tuks (Motor-carts) and caught a houseboat to Pakbeng, while watching families of water buffaloes stroll by. Pakbeng is a small hillside town, with a quiet community of shops, and an interesting 10:30pm curfew. I wondered what would happen if you stayed out past curfew, but was only told that "no one would play with you". 🙂 At least I was able to catch some ZZ's to prep for the following days.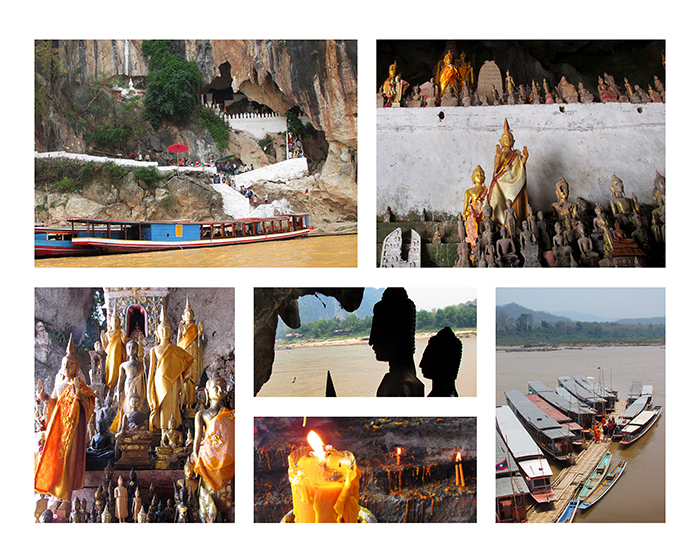 Pak Ou Caves. Legend says that 'long ago, Thailand was set to invade Laos, and the local villagers and monks hid hundreds of Buddha statues away for safe-keeping'; they remain here to this day. It's inspiring to see the numerous statues throughout this cliff-side shrine–stunning oasis of spirituality.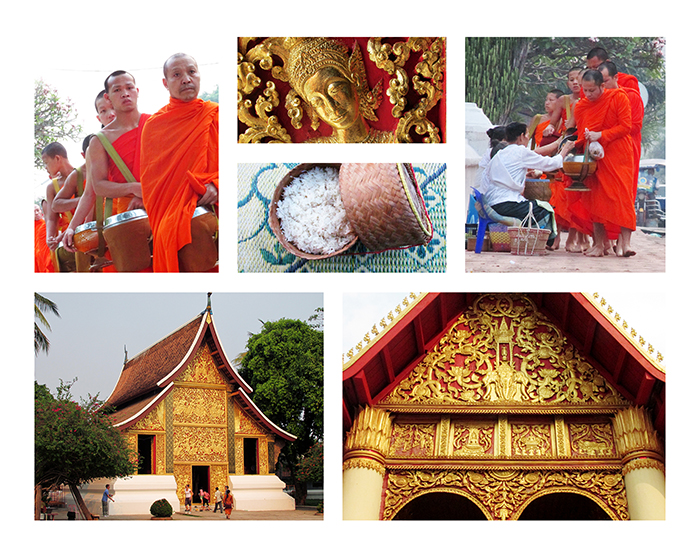 Luang Prabang: Giving Alms and Wat Xieng Thong. People say that Laos is one of the poorest Asian nations, but I consider it rich in spirituality. Laos is an extremely religious country, with 1 of 3 males becoming a Theravada Buddhist monk at some point in their life. In Laos, this "Tak Bak" alms-giving ritual is a beautiful cultural and religious tradition, where the townspeople gather around 5:30am to offer food to the monks. I was honored to have the opportunity to participate in the alms-giving, with the staple of yummy "sticky rice". The monks are not allowed to cook and have only one meal a day, so they could concentrate on their studies. Amongst the queue of orange robes, you would see young boys; some are orphans, while others are sent there by families for religious growth and education. Outside of some communities in Laos, schools are scarce, but within the temple walls, classes are set up for the boys. It's nice to see the symbiotic relationship between the community and the temples.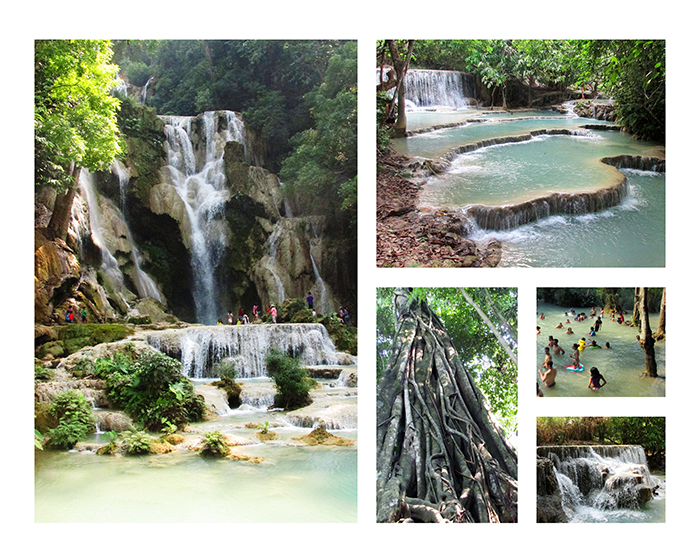 Kuang Si Waterfalls. This magical natural wonder is located about an hour outside of Luang Prabang.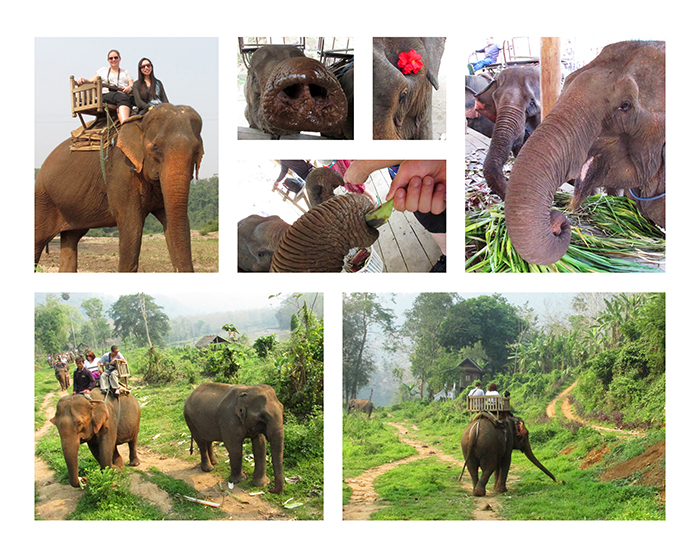 Elephant Sanctuary and Village. Riding the elephant through the jungles of Laos–simply breathtaking! The elephants were well-treated, and were free to roam about. They're such gentle, intelligent creatures (with a healthy appetite!)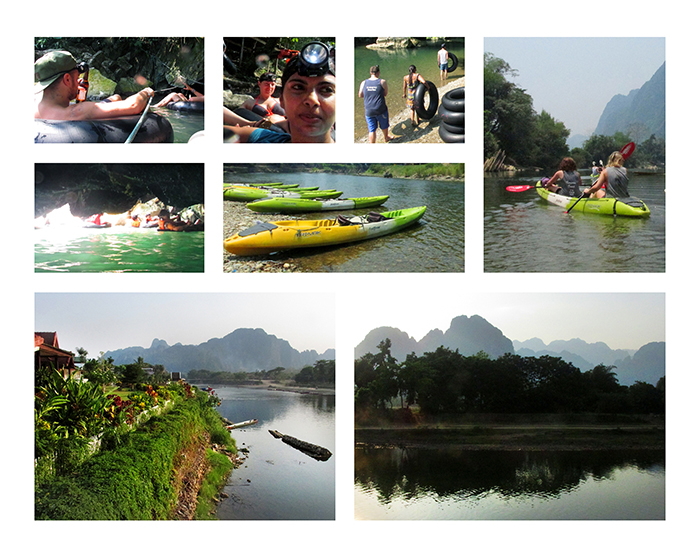 Vang Vieng: a fun back-packer community. This was my first time tubing–and I did it with style–semi-underwater caves complete with a miner light wrapped around my head. While pulling on a rope, you can float idly through the caves, with the sounds of laughter and splashing water all around you. A morning of kayaking followed soon afterwards, with exquisite views all around.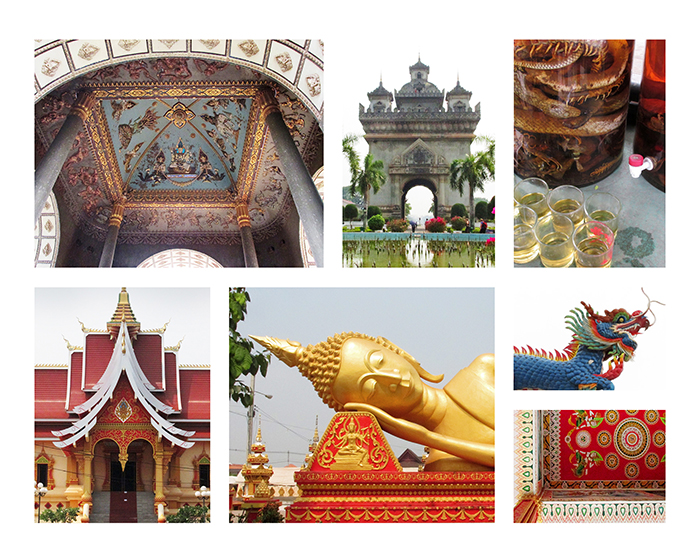 Vientiane: capital city of Laos. Beautiful mix of native Laotian and French influences in architecture and art. Look out for Snake Wine!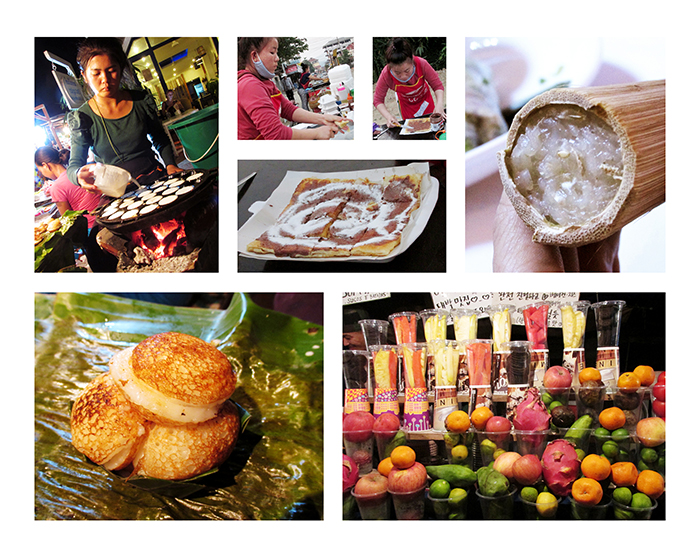 Street Foods: Amazing desserts in Laos with delightful pan-seared sweet coconut milk nuggets, organic all-fruit smoothies, sticky rice in a bamboo shoot, and my favorite–nutella, banana and coconut crepes!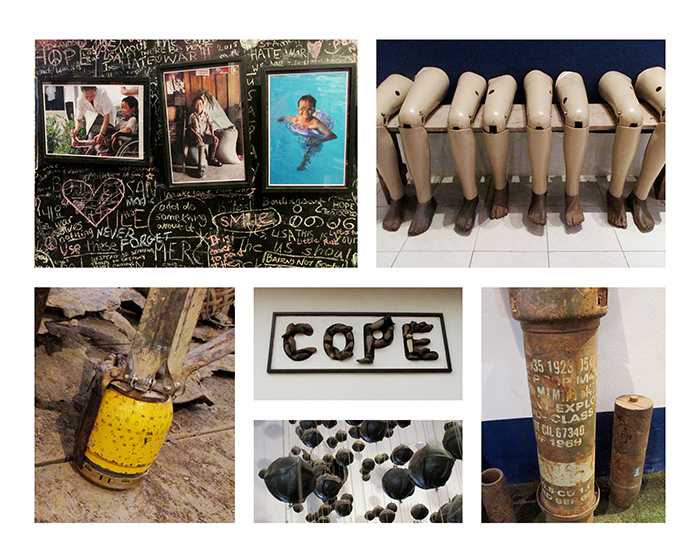 Cope Center. This is a medical rehabilitation center mostly for those victims affected by UXO (Unexploded Ordinances). In Laos, this was part of the "Secret War", trying to rid the Viet Cong via the Ho Chi Minh trail and other targets nearby. Laos is considered one of the most heavily-bombed nations per capita in the world, with 270 million bombs dropped by the US armed forces during the Vietnam War. 30% of those bombs did not detonate upon impact and are still active, thus affecting Laotians while they tend to their fields, or kids picking up the "bombies", confusing the vibrant bombs as toys. The Cope Center offers free medical care for those people in need. You could find out more of their great work at their SITE