. Posted by Sherrie Thai by Shaireproductions.com .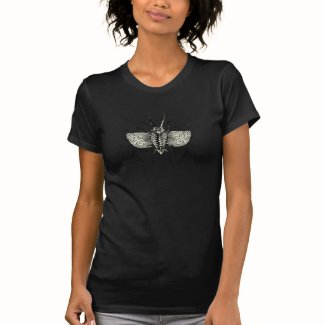 "Horror Moth" is a skeletal rendering of the metamorphic creature. It seems in Western cultures, the moth represents horror, with the qualities of fragility and death, while in Japanese folklore, such as "The Dream of Akinosuke", it represents a departure of souls. This is available as a t-shirt and entirely customizable. Check it out HERE

I've always admired the ferocious horns of the Dynastinae or Rhinoceros Beetles, so I combined them with a human rib cage, eyeball and beautiful wings. It's enjoyable exploring sinister creatures and insects. The first was "Deathly Scarab"–perhaps a whole series to come! 🙂 The piece was created with pen/ink and Photoshop coloring.